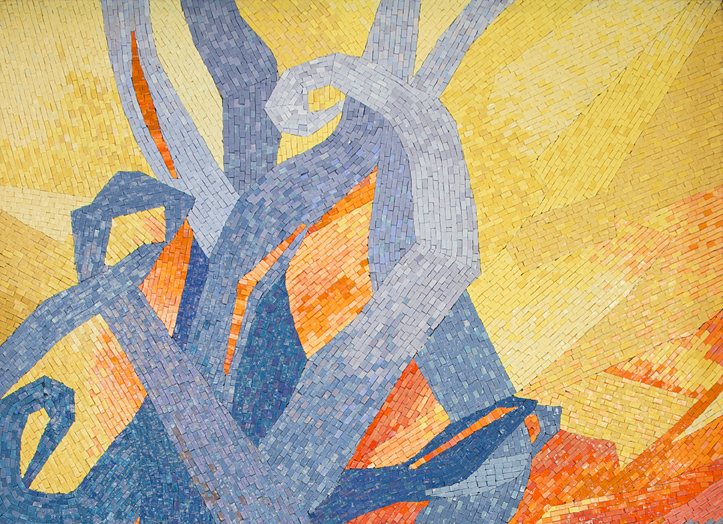 CALM WATERS
Glass Mosaic / 5 ' x 42 '
P. Sue Beckwith Boathouse, University of Iowa, Iowa City, Iowa
The mural was commissioned by the University of Iowa for their state-of-the-art indoor tank room where rowers spend long hours practicing. The work was created to enhance the practice room while illustrating the beauty of the sport through the repetition of shapes, patterns and colors. In collaboration with Thomas Rosborough.
Photos / Sue Voegtlin COPYRIGHT 2016
SERVICE & HONOR / Land
Stained glass / 3' x 5'
Iowa Veterans Home, Marshalltown, Iowa
The three windows were created to honor the residents who had served in the military. The windows illustrate the five branches of the service under the unifying command of land, sea, and air. At the request of the veterans a symbol of peace is represented in each window.
Photos / Sue Voegtlin
WATER ESSENTIAL
Smalti glass mosaic / 5' x 7' / vapor detail
Hach Hall, Chemistry Building, Iowa State University, Ames, Iowa
Four murals surround the water fountains on each floor representing the four states of water: frozen, liquid, vapor and supercritical. By definition chemistry is the science of change as evidenced with water and its amazing capability to transform from liquid to solid or vapor. Water is the perfect metaphor to enhance each of these areas within Hach Hall.
Photos / Sue Voegtlin